Hello everyone,
As Marketers we know that Video content is more improtant than ever, so why not edit on the go. In this entry we are going to take a look at some mobile solutions for Video Editing, Free versions (for Windows as well as Paid services.
---
Sorry to you Apple and Mac users, we are going to stick with Android and Windows compatible softwares.
Top 5 Best Video Editing Apps for Android
#1. Magisto
If you want a pro tool for your videos and media files then the Magisto Video editor is best. It can also create slideshow of your media files such as images, pictures and soundtracks. It automatically arranges and adds effects to your videos and slideshows without any extra effort and gives a full innovative video to share to groups and social media communities. The tool is featured with easy interface to use. And there are lots of extra magical features in the app like sharing directly from editor's dashboard, automatic video stabilization, filters, facial recognition effects, transitions etc. you would have no problem while using just simply add media files and left it as to give you the output.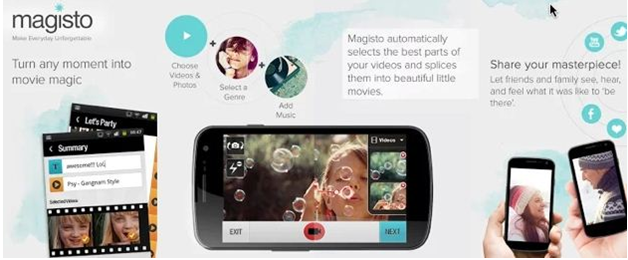 For professionals who need a full-featured video editing solution, KineMaster Pro is a tough contender to beat. It's by far the most robust of the Android-based video editing tools I've tested — and one of the most well-designed, to boot.
KineMaster Pro gives you a multitracked timeline with full drag-and-drop support: You can import multiple videos, images and audio clips, and then move them around as needed with your finger. The app makes it easy to adjust elements more granularly, too: You just select the element you want to tweak and then tap a scissor icon above the timeline. You can then drag your finger to trim the clip or tap a "Split" option to divide the clip into two separate pieces for further manipulation.
KineMaster has tons of options for improving the quality of your product, ranging from sliders for adjusting a clip's brightness, contrast and color saturation to a range of filter-like color effects. The app also has one-touch tools for rotating videos or images and an impressive selection of professional-looking transitions to give your project a more refined look.
In terms of graphics, KineMaster has a large variety of templates for creating both full-screen and superimposed titles. Many of the options include sleek-looking animations; the app even has a tool for creating credit-style scrolling text. It can also do interesting things with still images, like rendering a slow zoom into a picture while text floats across it.
KineMaster Pro supports multiple audio tracks, so you can have overlapping layers of music, effects and voice-overs. The app has a built-in voice recorder that lets you record narration while you're watching your video. It comes with a collection of generic background music tracks, too, in case you need something to set the mood in a hurry.
The only glaring fault with KineMaster Pro is the limited range of devices it supports. For some reason, rather than simply making a minimum OS version requirement as most apps do, KineMaster's developers have restricted the app to a specific subset of Android phones and tablets (for example, while most of the Samsung mobile devices are supported, no Motorola device is). If your device isn't included in that list, you won't be able to purchase and install the app from the Google Play Store.
If you can get it, though, KineMaster Pro is in a league all its own in the realm of Android video editors. Serious users need look no further.
(Note: KineMaster does offer a free version of the app if you'd like to try before you buy, but that version puts a watermark on all finished videos — so it really isn't good for anything beyond a brief demo.)
#3. Viddy
A free and new special media like app which enables easy video editing and sharing them to your own groups. You can also create your own social media group or community on Viddy and share your videos directly to Viddy or else you can share on different other social media. The Viddy app is available for both Google android and Apple iOS and also for desktop web browsers. The simply adding media files and getting a beautiful movie is good to hear and this tool can do it. Viddy Video editor also features some popular music in its own gallery which can be use into your videos and movies to edit.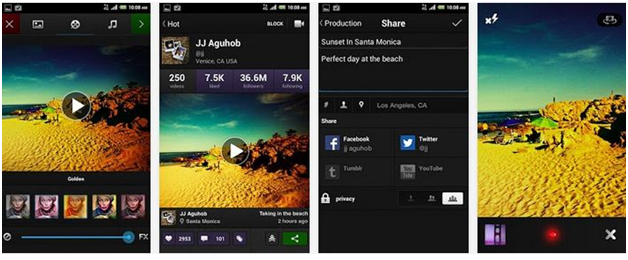 #4. AndroVid Video Editor
To cut, trim, edit and add music at any instant you will need a professional app which is completely free to use on android is this. You can easily cut and trim your videos through it and remove the part of video which you don't like. It also gives the advantage of adding text, frames, and effects to your videos. And the best feature of the tool is to convert any video into mp3 by this tool for free. It has lots of effects to add in a video like fade in and out swapping and slow/ fast of video clips. You can choose frames to your videos which will be shown on the screen of the viewer first. It can also use to create beautiful sideshows with music and special effects. In short it is completely a pro tool for android like PC software.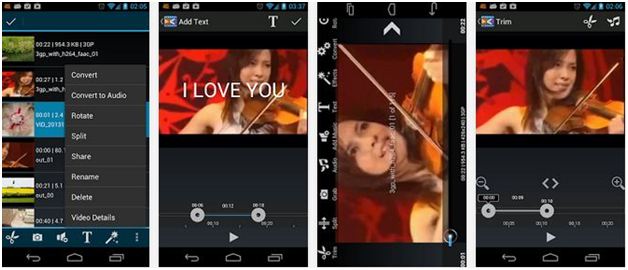 #5. Andromedia Video Editor
If you have videos in different formats and want to edit them then here is a professional free tool to edit your videos. The Andromedia Video editor is a free android based tool which can create HD videos in 320, 480, 720 pixels. Like other video editing tools you can do all the stuff which you want to but there are some extra features, which are awesome and unique like output file in HD, supports many other formats like WAV, MOV etc. The sideshow creation is quite easy through it as same like PC software and you can easily music files in it as you have done in your PC. The layout and user dashboard is very easy to understand and use.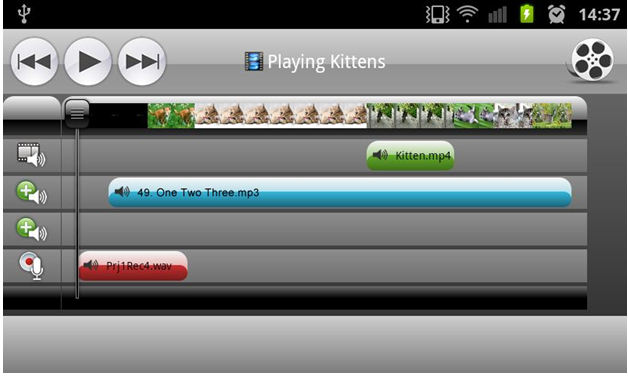 ---
TOP VIDEO EDITING SOFTWARE FOR WINDOWS
1. Ezvid Free Video Editing Software
– this software is now gaining a lot of users who are looking for an easy-to-use, fast, simple, drag-n-drop, and hassle-free video editing program. It is thought to be the world's easiest and best video and slideshow creator for Windows — and is 100% Freeware forever. What stands out of EZVID from the rest of the free video editing software is that it is able to capture computer screen with just "one-click" of a button and has speech synthesis feature called the "text-to-speech" (TTS) system that converts normal text into a computer language where no other free video maker/editing software has ever done before and even today. It 's also able to splice a video, speed/slow, duplicate projects, and saves projects. There are lots of cool things you can do with Ezvid. It's almost like an all-in-one video editing program which is very easy to use and above all, it's totally & 100% FREE.
Plus, Ezvid supports all Windows platforms – including XP SP3, Vista, Windows 7 and Windows 8.  It can make a slideshow or video in less than 3 minutes, there is no registration required for you to download and use the program. You have a direct Youtube upload plus free soundtrack music included. You don't have to buy a codec or get any codec packs to install the software. Want more? It is very much easier to use than iMovie or Windows Movie Maker, no DRM, you can record your voice along with the video, and it has the drag-n-drop feature to make creating and editing your slideshow or movie easier which comes with an intuitive design – really a great alternative for WMM or Animoto or any other apps out there!
is supremely easy to use. Just drag and drop a few clips onto the program (most formats are supported) and immediately they're assembled into order; transitions and special effects are just a click away.
It's just as simple to add a soundtrack, captions and credits, and you can save the results as a video file, or upload them directly to YouTube, Facebook and many other sites.
You can take a little more control when you need it, for instance trimming clips and applying a few other basic options. The program's main focus is on making it very simple to produce quality movies, though, and for the most part it's a great success.
---
PAID SERVICES for Windows
Video Editing Software Review REVIEWS AND COMPARISONS
VIDEOS - Mac & Windows