Responsive Template Builder
References for HTML integrators
See: Responsive Template Builder components
Where to find the Template builder?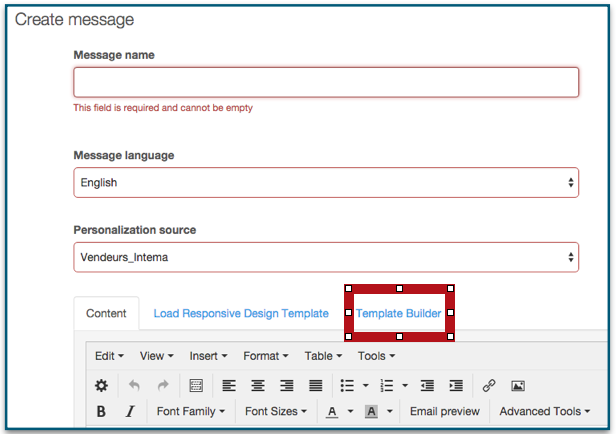 For informations about inserting your Google Analytics tags,
see here: FAQ Google Analytics
Main menu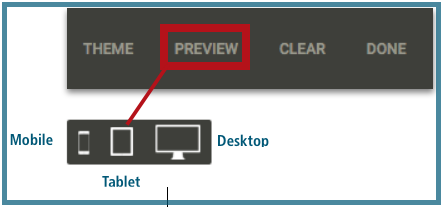 This little menu is featured in the top right corner of your screen.
Theme: The theme menu establishes the general font and color of your message.

Preview To preview your message. It allows you to view the visual of your message on desktop, tablet and mobile device.

Import: To import a template you have created and saved in the template builder directly and edit it.

Save: To save a template you have created in the Template builder and go back to it later.

Clear: Clears the whole template to start over

Done: When you're ready to leave the template builder.
You are now exiting the Template Builder and saving it as your current message. You will not be able to modify your work here again. Are you sure you are finished with your design?

Close without saving: When you want to leave the template builder and not use what you've just created.

No: When you want to stay in the template builder

Yes: When you want to leave the template builder and carry your template over to the message editor.

Advice from the pros: We recommend that you save all new templates before you leave the template builder. This way, if you need to add or remove blocks for your next message, you won't have to recreate the whole thing. Enjoy!
Drag and Drop
When you find an interesting asset, you click it and drag it to the box to establish its position. If you have no specific position in mind, just click on it and it will find a spot automatically.
Theme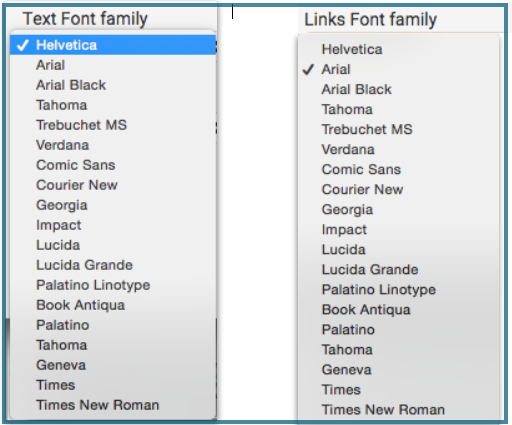 As you enter the template builder, this is the very first menu that will pop-up. It's the theme menu which decides what font will be used in your emails and the colors.
Theme Format
Text Font family (19 choices)


Links Font family (19 choices)

Colors
Simply click on the circle to select the color you want. Then click in the square to select the shade of that color.
Theme Colors:

Email background color


Window background color


Text color


Links color


Button Background color


Button text color


Images background color


Separator background color

Asset menu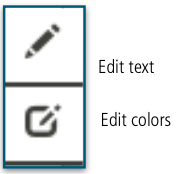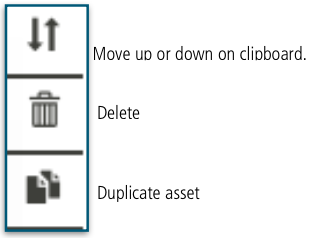 Whenever you select an asset, this menu appears on both sides of it:
Text
Text color


Element background color


Alignement


Text block height


Text block height (small devices)

Images
This option gives you the ability to import following:
- An image from the content library by clicking on the SELECT FROM LIBRARY button


- To insert an external link directly into the edit field of the source image.

Align


Color (Image background color)


Size (Image Width + Image Height)


Link (+ Google analytics tags)
- This option gives you the ability to link the image to a URL. When clicking on the picture, a page will open. Note that the URL could be a PDF document, a video, an audio clip or a website.

Buttons
Button text edition


Button alignement


Button format


Button width (max: 700px)


Button height (min: 20px max: 250px)


Button text


Font family


Font size


Button color editor


Button text color


Button background color


Link (+Goggle analytics tags)

Navigation
Determines how your subscribers will navigate your newsletter when viewed on mobile or tablet devices.
Logo
Click on the logo for a menu to appear:
Separators
Used for separating sections of your newsletter.
Separator Height
Separator width
Separator height (small devices)
Background color
Custom
To create a custom block:
Create your code locally
Save it as a .tpo file

Upload your file to the eFlyerMaker application using the "Content -> Document Library" section.

Your file will be shown in the Template Builder interface under the "Custom" panel
Features:
Source (If you want to replace the images)
Align
Image background color
Image dimensions
Link (+Google Analytics tags)